I returned home to California a few days ago after an incredible week in Jackson, Wyoming for the 2013 AIA Western Region Conference, which rotates between the six member states--Wyoming, Utah, Colorado, Nevada, Arizona and New Mexico--each year. I presented on high-performance building envelope design and crammed in all that I could in two presentation slots (browse or download the presentation below).
The conference of about 250 people was a big success, and I was inspired by interesting conversations and debates with fellow attendees. I even experienced a few moments of inspiration during other presenters' philosophical, sometimes elusive talks. These abstract talks are generally not the kinds I seek: for better or worse I'm biased towards nerdy, technical topics like in-depth case studies that outline siting challenges, building assembly details, HVAC systems, and lessons learned from the whole process. I leave Passive House and high-performance kinds of events invigorated, my commitment to leaving the world a better place strengthened. For the architects at this conference, I do think the talks reignited their idealistic passions that seem inevitably to wane as we age and disillusionment creeps in.
Some highlights:
Constraints propel creativity"
I appreciate Henry Beer's reworking of a similar phrase I've used in my talks. While he was speaking on the topic of public art, this idea can be applied to anything--for example, architects, how about adding another constraint to the others you juggle: optimize the building envelope to minimize heating and cooling demands? I showed some shining examples that high-performance can be gorgeous. Now go do it!
Julius Natterer's amazing applications of wood in his structural engineering- here's someone applying the above quote to real life. Just look at one of his ingenious applications of wood, a building material that's truly sustainable and ideally suited for a wide range of structural applications given its diversity of mechanical properties. Julius wears the passion he has for his work on his sleeve. We have different opinions on the "perfect wall assembly" (he likes solid wood walls without any added thermal insulation, and feels strongly that walls must always be vapor-open) and had a fun spirited discussion about this.
Paul Goldberger recently published Why Architecture Matters, which I've just ordered and can't wait to read if I ever have some downtime. He delivered the keynote address and was quite inspirational and thought-provoking: his accessible talk helped me understand architects better and reminded me why I once considered going to architecture school. He noted that urbanity is really more about streets than buildings, meaning essentially that if you've gotten the scale of streets and their interaction with buildings right, you can still have a cool livable city even if the buildings aren't all that cool. Detroit, take note.
Paul acknowledged that architects don't always have the power to do the things they feel are right--they have to do what clients tell them. Ultimately, this is true. But what I see over and over again in the building community are professionals who think they know how their client or colleague will react to a possible suggestion (e.g., "No!") and so don't even bother raising the idea. But here's the deal: people very often don't understand what they want, or are ignorant about something important they WOULD want were they educated about it. It's our job as professionals to educate them. Will you sway them into making a better choice? I bet you'll be pleasantly shocked at how often the answer is yes.
What is the city but the people?" - Shakespeare
Yes, indeed. Politicians, urban planners, developers, architects, engineers: think about this every day and weave it into everything you do.
And a lowlight.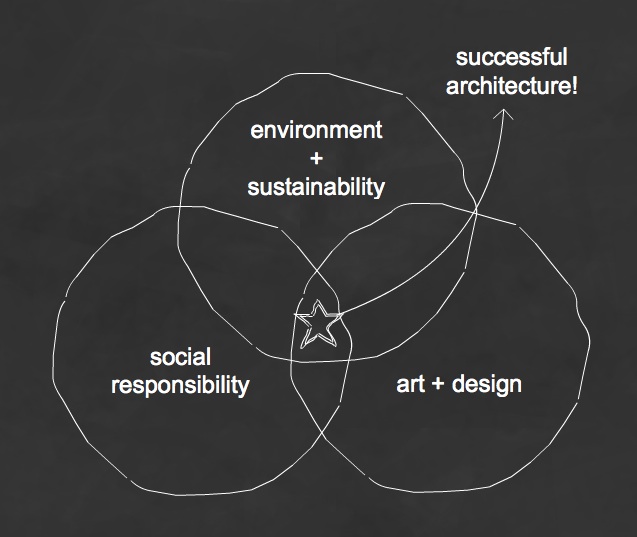 At the closing panel session, a slide prepared by Henry Beer was displayed to kick things off, three equally sized overlapping circles including the concepts of 'art & design,' 'social responsibility' and 'environment & sustainability,' the idea being that successful architecture is the intersection of these as I've sketched here.
One of the panelists, who creates stunning architectural masterpieces--many of which sadly demonstrate blatant disregard for their operational energy use--dared that architecture is only about design, the other circles should be miniscule. A dismayed architect from the audience asked if he truly really believed that and whether the other panelists agreed. But the facilitator moved on, hoping to avoid conflict.
It saddens me that the architectural community sometimes seems unwilling to have these conversations. An event like the AIA conference is the perfect forum to openly consider whether, in our current reality (of wars for oil, contaminated tap water from fracking, nuclear meltdowns, people getting sick from their homes, rising housing costs and I could sadly go on and on,) one criterion for any successful building should be that lower-income people and society at large can afford to operate it, both today and 100 years from now.
Today, I think it's simply irresponsible to create a building whose beauty is only skin deep. What do you think?