Image credit: Berkeley Backyard ADU – Deeds Design & McBride Construction
As California has made it easier for homeowners to add accessory dwelling units (ADUs) to their properties, interest has taken off. We've personally experienced this through constant inquiries and dozens of ADU projects we've consulted on, and chances are you've designed or built an ADU or embarked on a project of your own. With this growth quite a bit of information and resources on the general design and approval process of ADUs has followed, but there's been almost nothing regarding aspects like HVAC design or energy compliance.
As building size is reduced to the ADU scale, it's not always intuitive which measures to prioritize in order to optimize energy efficiency and meet the rigorous Title 24 energy code. Designers and contractors also often don't know which mechanical and plumbing systems are best suited to smaller spaces and different occupancy needs compared to larger single family homes. After navigating through this on many projects, Beyond Efficiency has compiled key strategies into a dynamic design guide to help designers, builders or DIY-types apply strategies that are efficient, comfortable, healthy and durable.
For example, many of our clients try to avoid foam-based insulation products due to environmental or health concerns (you can learn more about these concerns from (Green Science Policy Institute). Unvented roofs (think cathedral/vaulted ceilings) typically pose the biggest challenge when it comes to foam-free buildings. Typical approaches would involve either spray foaming the rafter cavities or installing rigid insulation on the roof deck and then adding another layer of sheathing on top of that. What a pain! However, in national climate zone 3 or milder (or California T24 climate zones 3-15) a foam-free, unvented pitched roof is possible by using a vapor diffusion port assembly. What this boils down to is insulating the rafter cavities with a standard product (dense-pack cellulose is our preference; other air-permeable insulation products are also ok). Then, drill some holes in each rafter cavity near the ridge, add a vapor open membrane, and use a wider than usual ridge cap to cover the holes. The level of effort is in the ballpark of that for a vented roof, it eliminates the headaches of foam (sometimes literally), and it's a low-cost strategy. We cover details like this in the guide.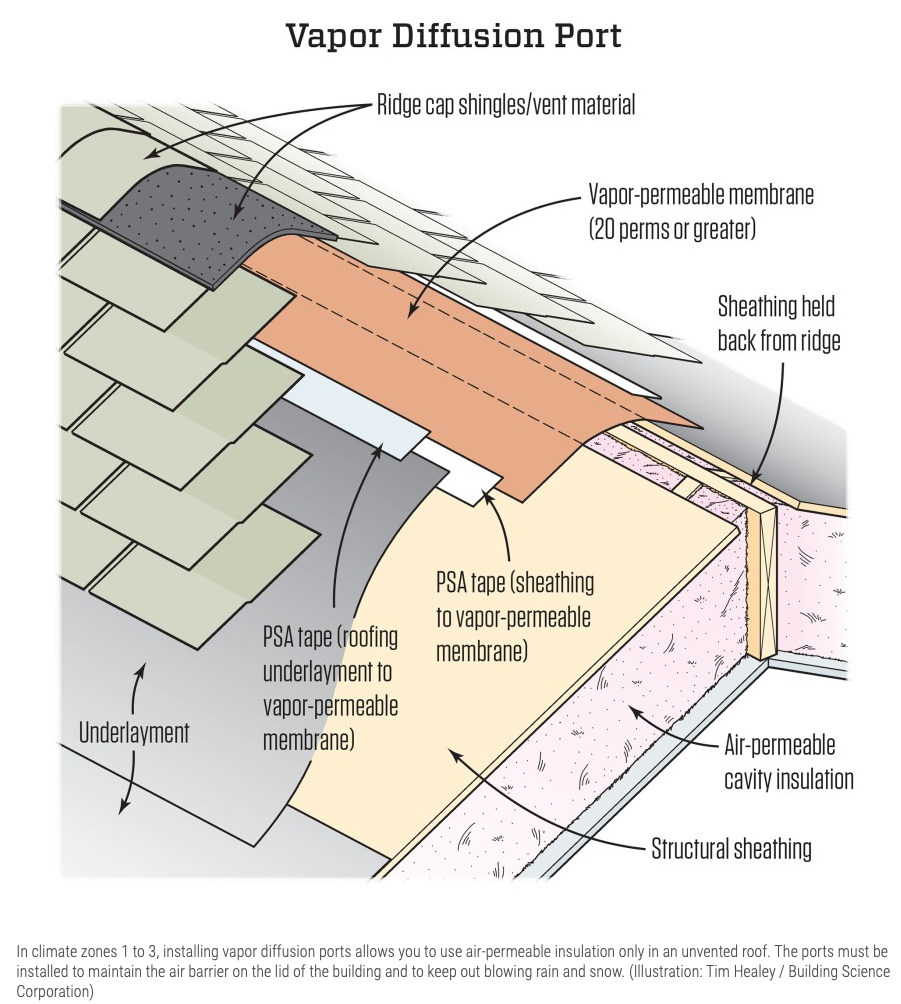 Vapor Diffusion Port schematic from JLC - Avoiding Wet Roofs Part II, July 2018
At the ADU scale there are also some pretty tidy solutions for HVAC. Opportunities really open up with point source equipment since in ADUs, distribution challenges are diminished and heating and cooling loads are typically low. For heating and cooling we're generally looking at small heat pumps, whether wall hung mini-splits or through-the-wall units like packaged terminal heat pumps (PTHPs). If mechanical cooling is not a requirement, it can even be possible to integrate electric resistance heating as long as it's paired with a very good building envelope, heat recovery ventilation, and a high performance water heating system. For ventilation we discourage the code-minimum "strategy" of running a bath fan 24/7 and strongly encourage balanced systems that allow you to control the source of fresh air and properly filter it. This is more important than ever with California's longer and more intense fire seasons.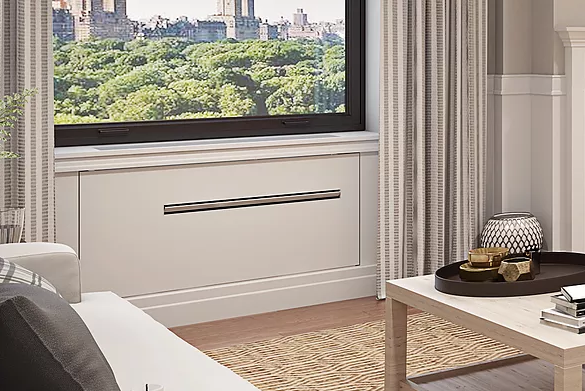 Ephoca HPAC 2.0 by Innova, a minimalist PTHP without refrigerant lines
Ultimately, this dynamic design guide distills our expertise to help guide important technical decisions for the building envelope and mechanical systems, and also ensure compliance with the stringent energy code. Our goal is to maximize value to clients at a fraction of the cost.
Our anticipated release of the Beyond Efficiency E-Guide: ADUs is this spring. If you'd like to be notified of updates and the official release, be sure you're subscribed to our newsletter. Also, if you're a building professional and would like to contribute your insights to inform the ADU guide, we invite you to complete this brief survey by February 10.